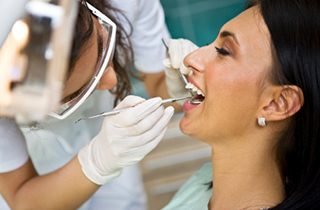 Cleanings & Prevention
A preventive program is a cooperative effort by the patient, dentist, and dental staff to preserve the natural dentition and supporting structures by preventing the onset, progress, and recurrence of dental diseases and conditions.
Preventing dental disease starts at home with good oral hygiene and a balanced diet. It is continued in the dental office by the efforts of your dentist and dental hygienist to promote, restore, and maintain your oral health.
Prevention also includes regular dental exams, cleanings, and x-rays. Sealants and fluoride are also great preventive treatments that help protect the teeth.
Prevention helps avoid serious and costly dental problems and is the key to having a healthy, confident, beautiful smile.
Professional Dental Cleaning
Our dentists will use ultrasonic scalers to remove calculus, or tartar, that have accumulated on your teeth. Tartar resides above and below the gumline (one word) and must be removed to prevent bone loss and gingival recession.
It is very difficult to achieve excellent oral health without visiting your dentist at least twice a year for a routine dental cleaning. This is because traditional brushing methods are unable to remove tartar, though plaque prevention is still possible.